Latest News
"Petrogas acquires swedish company's north sea assets "
As part of it's plan to grow its resource base in North West Europe, Petrogas has signed a Sales Purchase Agreement (SPA) with PA Resources AB to acquire some of its subsidiaries holding a number of exploration and potential developmental interests in Denmark, The Netherlands, UK and Germany. The transaction is subject to fulfillment of a number of conditions including regulatory approvals, and is expected to close during the first quarter of 2016.
"PETROGAS RECEIVES ISO 14001:2004 AND OHSAS 18001:2007 CERTIFICATIONS"
Petrogas E&P, the Exploration & Production arm of MB Holding Group of Companies recently received two international certifications - the ISO 14001:2004 - Environment Management System and the OHSAS 18001:2007 Occupational Health and Safety Management System. The company is now internationally recognized for its high level of standards in Environment Management Systems and HSE in alignment to ISO 14001:2004 & OHSAS 18001:2007 and monitored with strict parameters that are used globally. As one of the leading Exploration & Production companies in the Sultanate, Petrogas conducted comprehensive audits that covered every aspect of its business in the Muscat Head Office as well as field operations in Rima to pursue these certifications.

Dr. Mohammed Al Barwani, Chairman – MB Holding commended team Petrogas on this achievement. He said "We strive to be on par, if not better than the highest global standards in every facet of our operations. It helps us demonstrate our serious commitment towards the environment we operate in and the health and safety of our employees as well as the community at large. Congratulations to the management and team on this milestone."

Some benefits of these certifications include awareness and protection of the environment, reduction of accidents and incidences, staying abreast of relevant legislations and reduce the likelihood of prosecution and fines, standardization of HSE management systems keeping in mind international procedures and rules.

Usama Al Barwani, CEO – Petrogas, said, "The ISO 14001:2004 & OHSAS 18001:2007 certifications are globally recognized symbols of our organization's ongoing commitment to excellence, sustainability and reliability. Organizations of all kinds are increasingly concerned by achieving and demonstrating sound Environmental and Occupational Health and Safety performance to their shareholders, employees, clients and other stakeholders. This is possible by managing the hazards and improving the beneficial effects of their activities, products and services. We are delighted that Petrogas has received these certifications and this further reaffirms our commitment to stringent legislations and measures on these aspects."

The Corporate QHSE Manager, Dr. Ghudayyer Al Waheibi, also added in his speech: "Petrogas as a certified company in all its operations continues to hold a competitive edge by upgrading its standards to the level of world class oil producers."

Established in 1999, Petrogas E&P is the holding company for MB Group's Exploration and Production (E&P) assets in Oman, Egypt and The Netherlands. Petrogas E&P subsidiaries are engaged in the full range of Oil & Gas activities from exploration through appraisal, development and production.
"Petrogas spreads its wings to Europe - enters the Netherlands by acquiring Chevron's oil & gas entities in the Netherlands."
In 2014, Petrogas purchased all the outstanding sharesof Chevron Exploration and Production Netherlands B.V. (CEPN), including its subsidiary Chevron Transportation B.V. (CT). The Dutch assets A/B and P/Q are now held under Petrogas Exploration and Production Netherlands.
The purchase includes operating working interests in 11 blocks in the Dutch sector of the North Sea. This includes seven blocks, with working interests ranging from 23.5% to 34.1%, which make up the A/B Gas Project. Also included are working interests ranging from 46.7% to 80% in three blocks that contain other producing fields and a 100% working interest in the P2 exploration block.
PEPN currently employs 189 personnel including 127 employees and 62 regular contractors in offshore and onshore positions in the Netherlands.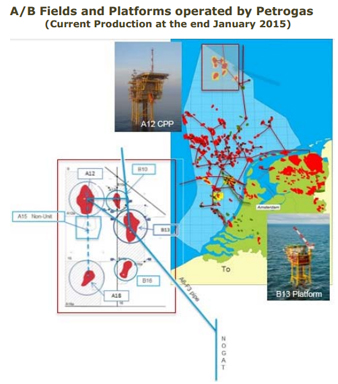 PEPN owns and operates interests in the A and B Blocks (including the recently acquired A15 and B17 licences). In 2005, the company and its partners were granted production licenses enabling the development of the A/B shallow gas fields in the Dutch North Sea. A central processing platform and an export pipeline were installed in Block A12 in 2007. First gas was achieved in December 2007. Since then the B13 (unmanned) production platformhas been commissioned and brought online in December 2011.
PEPN also operates and owns the P/Q Oil Area with existing production from five fields viz: Q1 Block (including the Helm, Helder, Hoorn and Haven fields), the P9 Horizon field (straddling P9a and P9c), the Halfweg field (straddling Q1 and Q2c) and the P02 exploration block.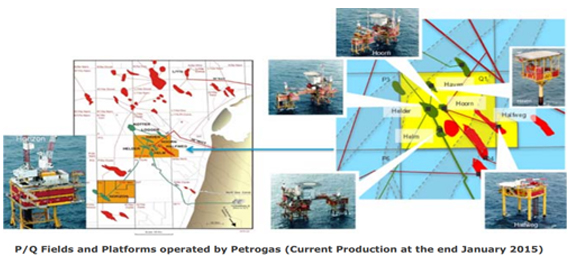 PEPN has been active in the Netherlands since the mid-1960s and producing Oil since 1982 (then operated by Unocal). First production from the Helm and Helder platforms in block Q1 took place that year. This was celebrated in 2012, marking a significant milestone as 30 years of offshore oil production. Currently there are 6 platforms in the P/Q fields operated by Petrogas.
In 2014, total average daily production was in the tuneof 2,400 barrels of crude oil (net ~1950 bopd) and about 117 million cubic feet of natural gas (net ~40 mmscfd). The barrel oil equivalent daily production net to the company was in the tune of 8,800 boepd.